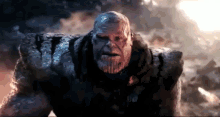 It was a long hard fought battle over the week. The Avengers had been annihilated. S.H.I.E.L.D. was destroyed. Hydra fell apart soon after the death of Red Skull.
The only 2 beings left alive on earth, a single eunuch and a lonely one legged stripper managed to finally hit the weak spot of Thanos, and that was enough to end the madness once and for all…
GAME OVER
CITIZENS OF EARTH WIN!